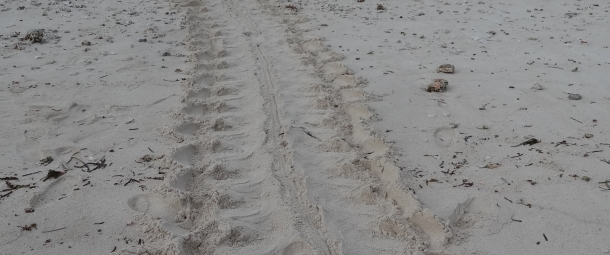 Marine Turtle Research Programme
Five species of marine turtles; the green turtle (Chelonia mydas), hawksbill turtle (Eretmochelys imbricata), loggerhead turtle (Caretta caretta), leatherback turtle (Dermochelys coriacea) and the olive ridley turtle(Lepidochelys olivacea) have been recorded in the Maldives. The most commonly nesting species in the Maldives are green turtles and hawksbill turtles.
Legislation
A Presidential Decree prohibits catching or killing of any turtle species from the Maldivian waters for a ten-year period from 2006-2016. The decree came into effect under Section 10 of the Fisheries Law No. 5/87. It is therefore currently against Maldivian law to catch, kill, export, or sell turtles in the Maldives. Turtle egg harvesting from 14 islands considered to be nesting "hot spots" are prohibited.
National Marine Turtle Nesting Survey Programme
Started in 2015, the National Turtle Nesting Survey Programme is a community-based monitoring programme where nesting surveys are undertaken in selected protected nesting islands. Locals are selected from nearby inhabited islands to undertake nesting surveys. MRC believes engaging the civil society in data collection on marine turtles, would assist in raising awareness on illegal poaching of marine turtles and their eggs in the Maldives.
The objectives of the programme are to review the current moratorium by:
Establishing a baseline abundance of nesting turtles from selected protected islands
Identify challenges and issues in implementing the moratorium and protected nesting islands
Raise awareness on threats to marine turtles mainly on illegal poaching of turtles and eggs
Provide  policy recommendations to Ministry of Fisheries and Agriculture
Surveys are conducted at Laamu Gaadhoo, Thaa Kanimeedhoo,  Thaa Funaddoo and Thaa Kan'doodhoo. 
Turtlewatch Maldives
Turtlewatch Maldives is partnership programme, between MRC and International Union for Conservation of Nature (IUCN) as part of the activities of USAID funded Project REGENERATE. Turtlewatch Maldives is a citizen-science programme targeting tourist resorts, where biologists and citizen scientists at resorts take part in carrying out the surveys. The programme started in January 2015 and aims to collect standardized data on foraging and nesting sea turtles throughout the Maldives.
---
To report any turtle nesting activities, contact kali@mrc.gov.mv
To report any illegal activities, contact the nearest Police Station or Ministry of Fisheries and Agriculture; http://www.fishagri.gov.mv/index.php/en/contact